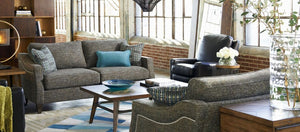 7 products
---
La-Z-Boy has a strong history for producing comfortable and quality products and is a brand that is known throughout the globe.
The company was founded in 1929 by American cousins, Edward M.Knabusch and Edwin J.Shoemaker, who invented the first recliner in 1928. A comfortable concept, the folding wood-slat porch chair followed the contour of a person's body, both sitting and leaning back. Using orange crates to mock-up and refine their idea, the partners invented the reclining mechanism that would sweep the world off its feet.
In 2009, La-Z-Boy selected Lancashire-based furniture business, Furnico Ltd, as its UK partner, citing its strong network of retail partners as a key factor in the decision.Furnico Ltd was established in 1983 and is the sole licensee of La-Z-Boy UK.
La-Z-Boy continues to innovate, building on a unique heritage that has pioneered new developments in the furniture industry.In 2013 La-Z-Boy introduced its new handle products, introducing it's exclusive slouch mechanism to UK high streets.Allowing effortless reclining in a three point position, handle recliners from La-Z-Boy provide the ultimate in comfort and relaxation.
---