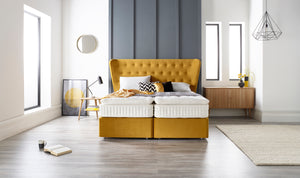 Somnus
From their farm in North Yorkshire, Somnus tend a very special flock of sheep and alpacas that are behind the Yorkshire Dales Eco Wool and alpaca fleece that you'll find inside our Somnus beds.
20 products
---
Somnus Mattress
Browse the leading Somnus Mattress in-store and online
For some, sleep is something that easily washes over them. At Somnus, the desire and passion for pushing the boundary of luxury mattresses wash over them just as quickly. Somnus beds are part of the Harrison Spinks family, so each mattress is handmade in Leeds. Like Harrison Spinks, Somnus's true beauty and comfort lie with their bed spring technology. If you're looking for a Somnus mattress, visit the showroom of Carters Furniture in Kidderminster and Worcestershire or browse the range online. These mattresses are an excellent combination of British workmanship and attention to detail, producing a premium sense of comfort. Discover one for yourself.
Discover the Somnus Brand
The Somnus brand was established in 1840 and boasts over 175 years of experience handcrafting unparalleled luxury mattresses and beds that constantly push the boundaries of mattress technology. Every stitch and the materials used are British by design. Somnus uses locally sourced natural materials for their upholstery and fillings. They take pride in handling everything traditionally, and they've kept this tradition alive for five generations. Something that sets Somnus apart from other mattresses is its intelligent spring system. This complex system provides comfort and highly accurate support where you need it most.
Find Your New Divan at Carters Furniture
If you're looking for a harmonious blend of style and comfort, look no further than beds and divans from Somnus. Somnus has everything, whether you're looking for a traditional or more modern look. Carters Furniture is proud to offer a wide selection of divan beds with high levels of comfort and support. These beds are perfect for homeowners looking to make a statement or create a warm, cosy bedroom. Take a look at the Somnus beds we carry, including:
Sleep Well with a Somnus Mattress
Like their family company Harrison Spinks, Somnus strives to produce the world's most comfortable and sustainable mattress. Each mattress is handcrafted with the finest and highest quality natural materials locally sourced from local farms. Further, customers who purchase a Somnus mattress will experience their award-winning springs that boast proper support where it's needed most. Here are some of the Somnus mattresses we carry, including:
Why Choose a Somnus Bed?
Somnus shares Harrison Spinks dedication to remaining chemical-free and only using naturally found high-quality materials. Somnus currently partners with a North Yorkshire farm that raises the sheep from which they get their wool and fibers. They understand that you must take your time to get a quality product—each product, whether mattresses, beds, or headboards, is handcrafted with traditional techniques. Customers will find their award-winning, glue-free Cortec springs within their mattresses, featuring a unique spring design that provides support and comfort. These springs work hand-in-hand with their micro springs to create an unexpected luxurious sleep night after night.
Order Your New Mattress Today
Regardless of whether you've been looking for a new luxury mattress or just woke up and decided it's time for a replacement, you can rely on unrivaled luxury and comfort from Somnus. They're known for using natural, high-quality materials to perfect a good night's sleep. Further, Somnus is dedicated to being conscious of their environmental impact by working hand in hand with local farmers who help rear sheep for their mattresses. Carters Furniture proudly carries this prestigious brand and is happy to offer it to our customers. Stop by one of our showrooms to try these mattresses or shop our online selection.
To help provide additional information about the Somnus brand, Carters Furniture has pulled together some of the most commonly asked questions, including:
Is There a Difference Between Harrison Spinks and Somnus? – Each brand is committed to using sustainable and natural materials; they use the same springs in each model across the brands. Both mattresses offer unrivaled comfort and support, and the difference comes down to associated costs and what you believe is the best value for your money.
How Do I Care for My New Somnus Mattress? – Airing your mattress regularly and adding a waterproof protector, if possible, is recommended. This will help stop accidents from seeping into the mattress and leading to additional damage.
How Often Should I Turn or Spin My Mattress? – Somnus recommends rotating and turning your mattress every month. This helps ensure your mattress remains comfortable for years by avoiding wear and tear in only specific locations.
How Often Should I Change My Mattress? – While Somnus mattresses are built to last, you should change your mattress every seven years.
---